In September 2020, I saw improvement work had started on Spondon Linear Park, so I contacted the
Friends of Spondon Parks
to offer my services and volunteer to give the Rainbow bridge some TLC. This was the start of an awesome project to give the bridge a new life and to get the whole community involved.
How the magic happened...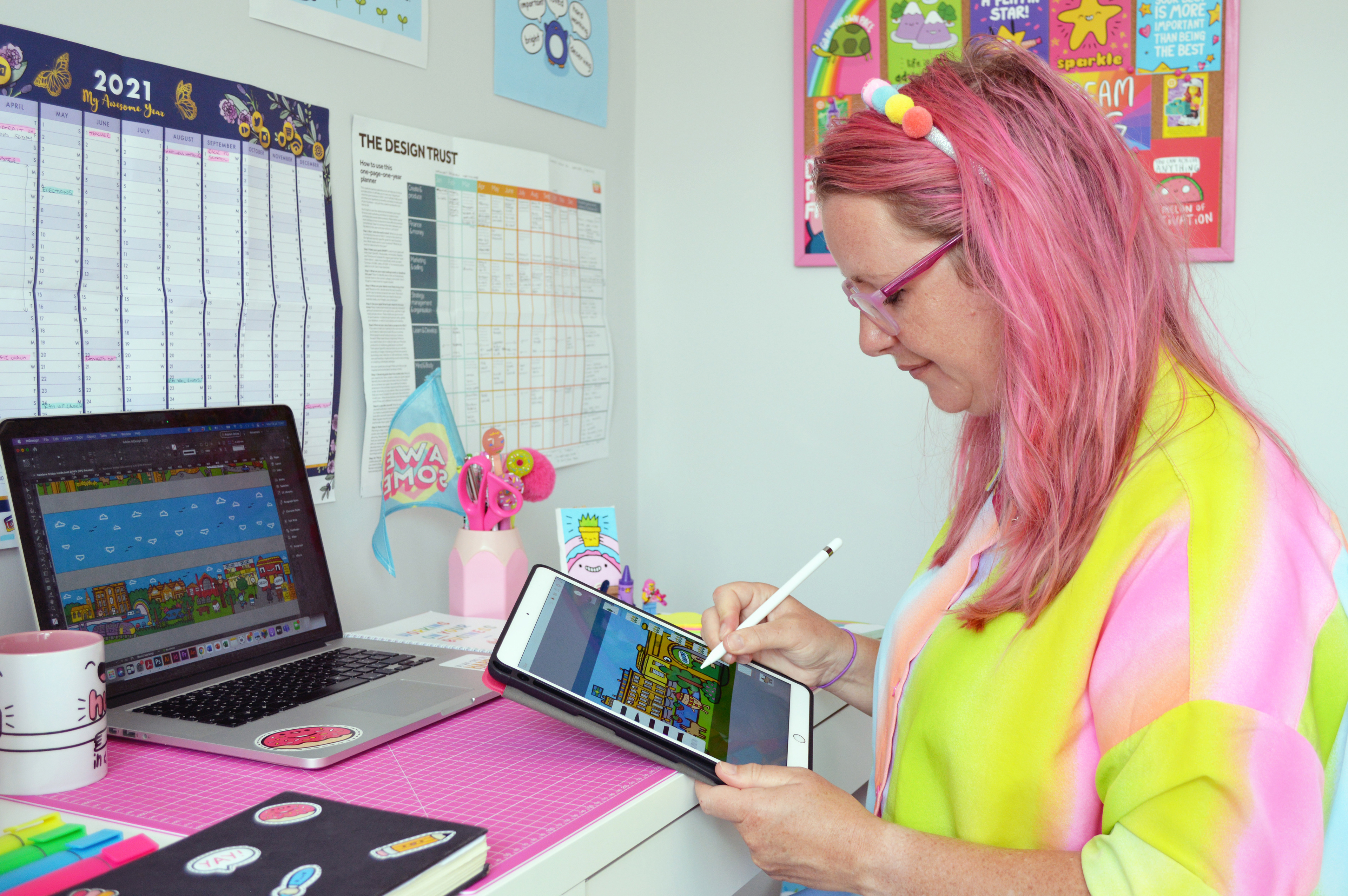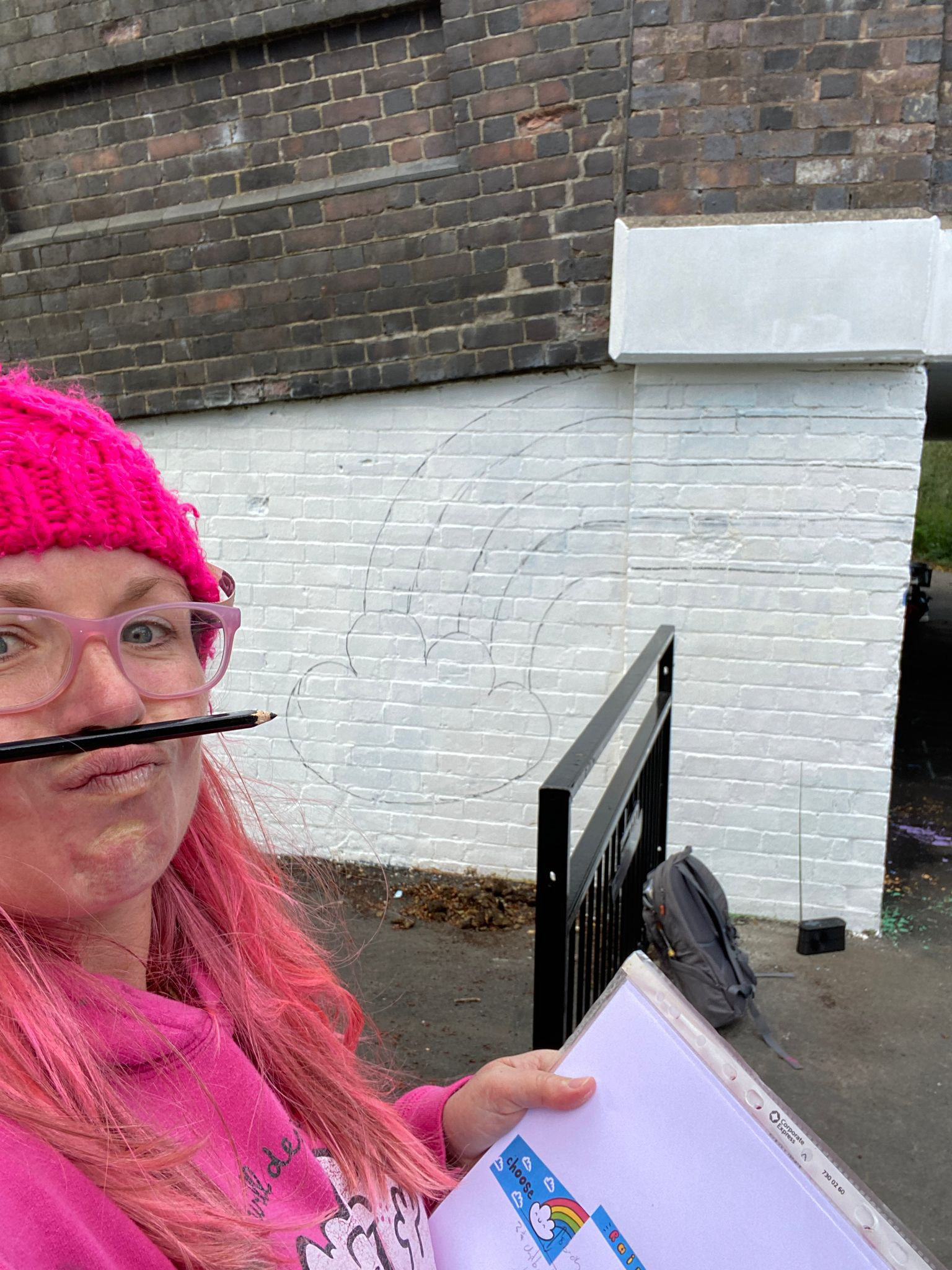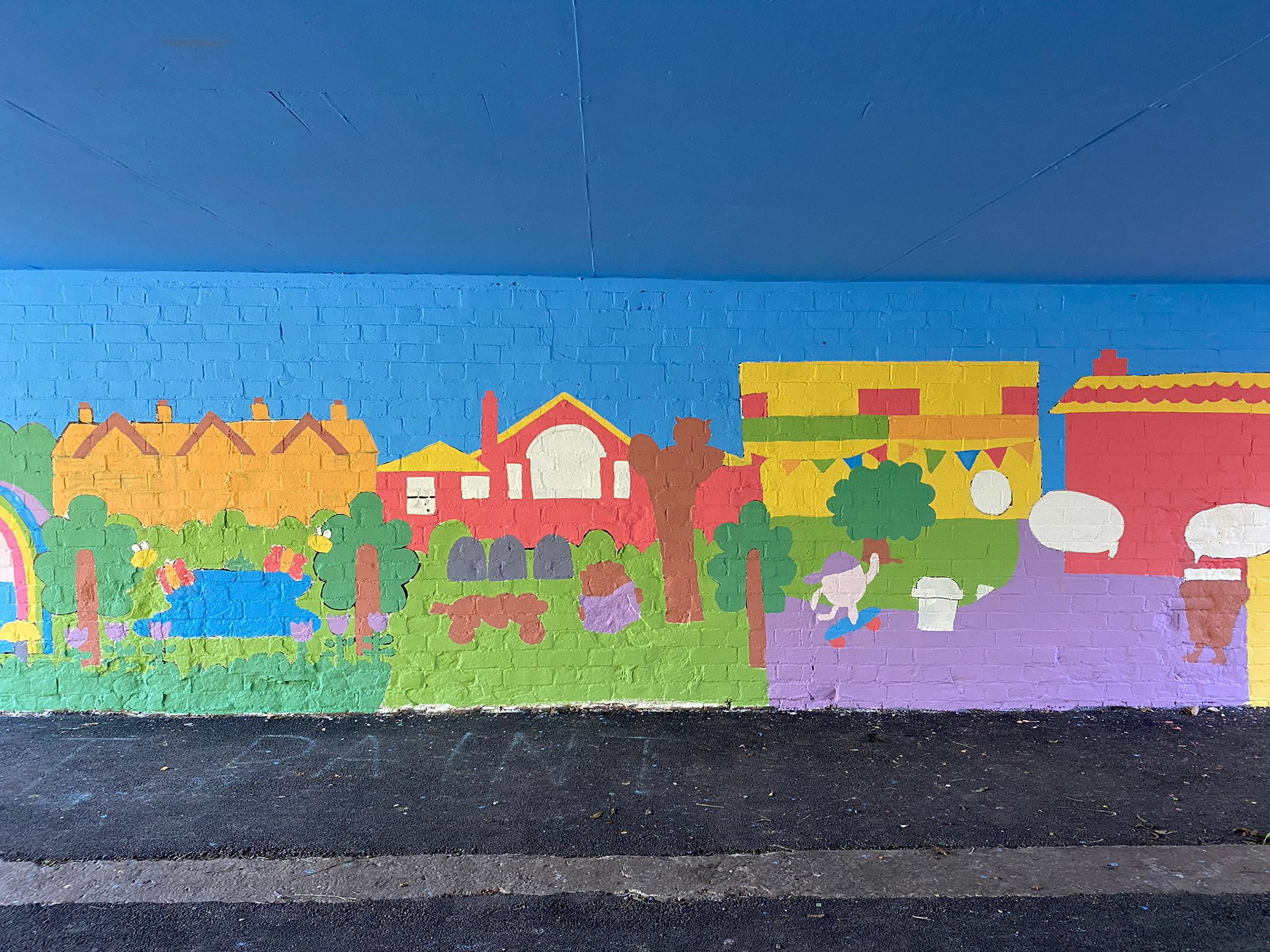 Teamwork makes the dream work...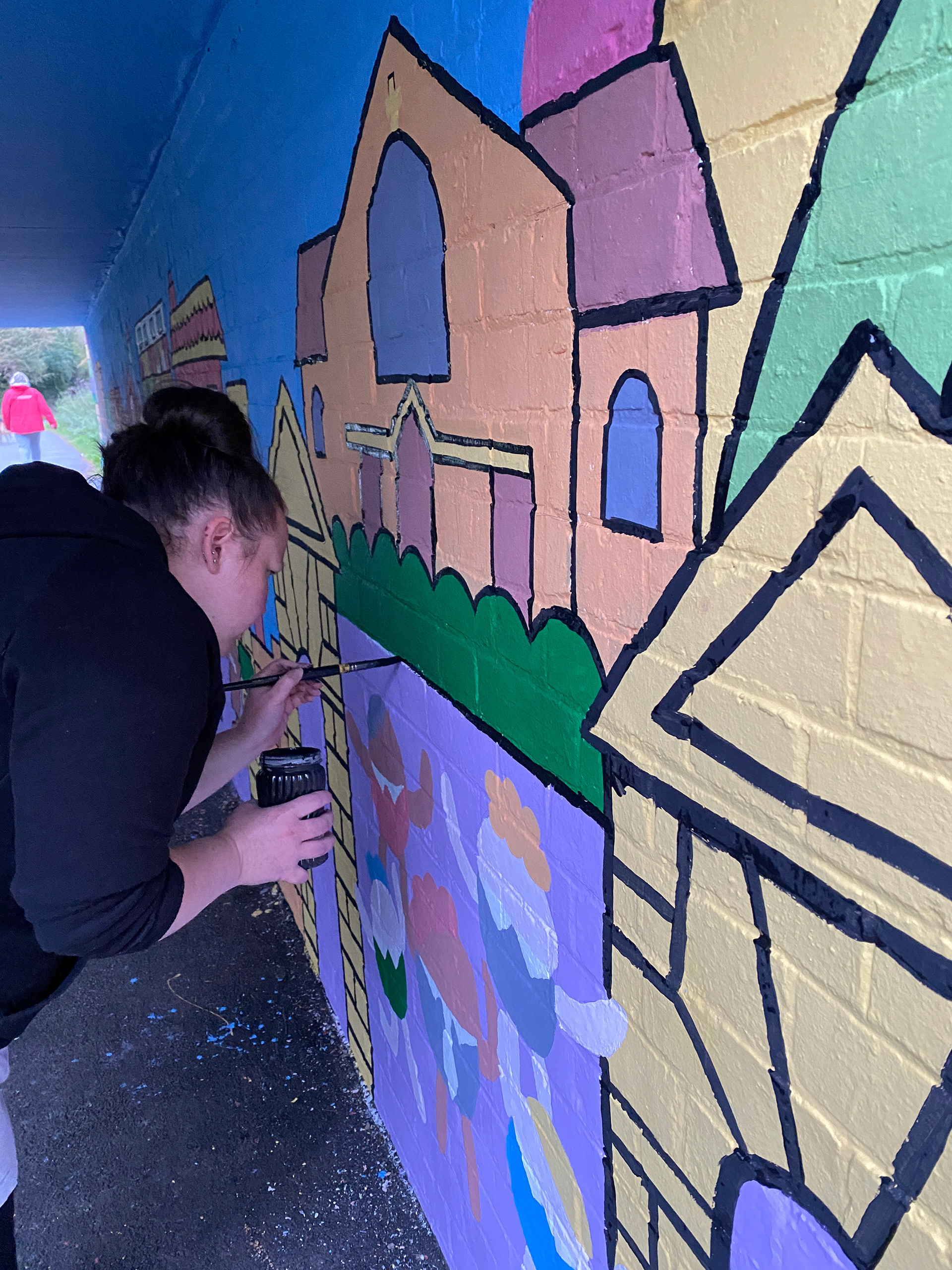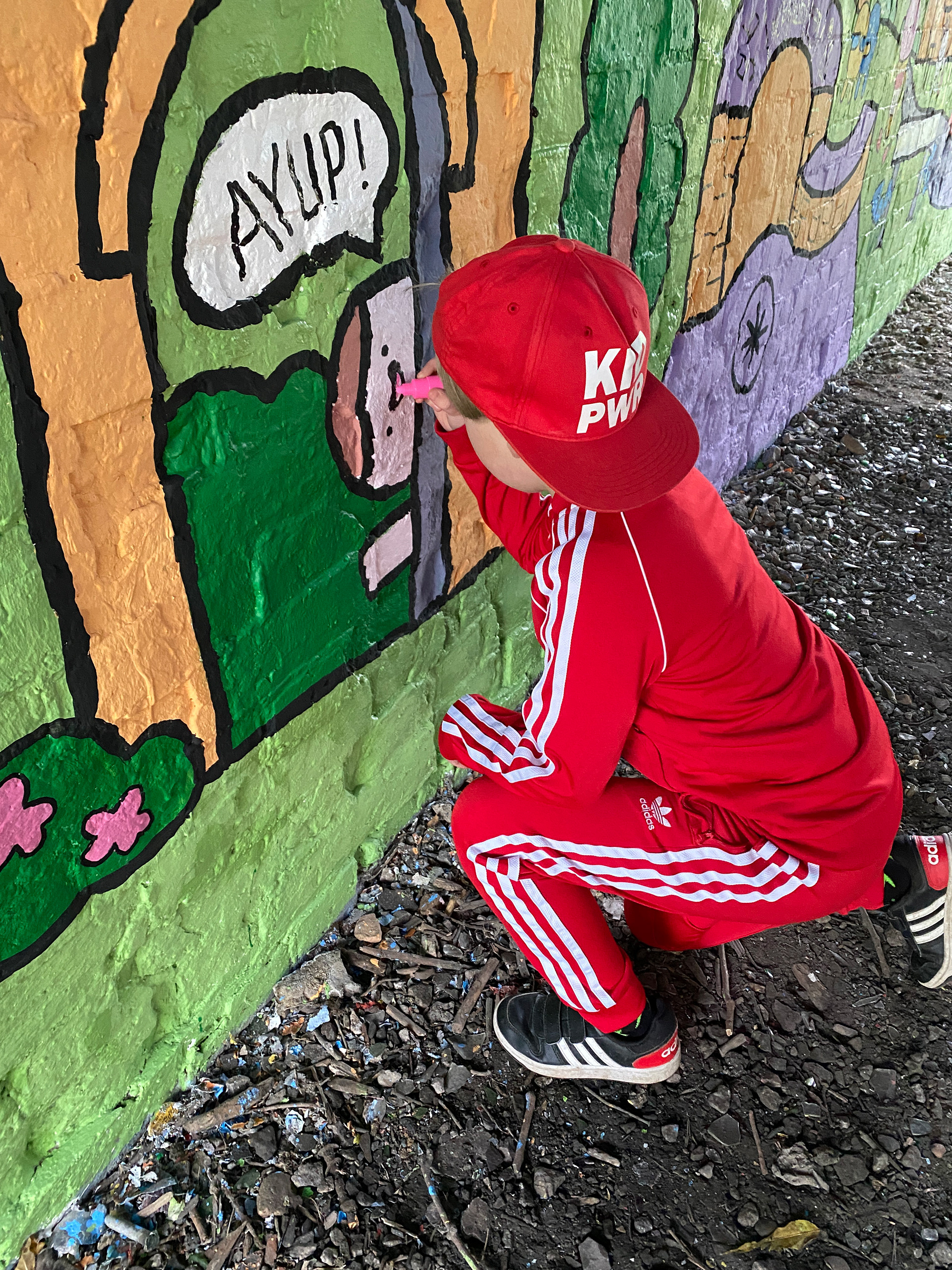 "Carla came to us with a vision for this old and tired looking bridge and as Spondon Parks ambassadors we were delighted to help her see this vision through. From 2 year olds to 82 year olds, Spondon residents were keen to donate their time to help paint and it brought a real sense of community to the project.
The footfall under the bridge massively increased during the project and has continued to be high since it finished with constant social media posts from people sharing the great work that was accomplished.
We were also donated items from local businesses to help with the cost of the bridge to show their appreciation for everything Carla and the volunteers were doing. Without Carla, her vision and the volunteers this wouldn't have been possible and the joy it's brought to Spondon residents is second to none."
Christian Hadfield, Chair of Friends of Spondon Parks
"Carla at Love Lalaland created the most delightful and fun art installation under Spondon Linear Park bridge. The project didn't just bring vibrancy to an unloved corner of the park but engaged the local community from the idea stage to completion.
The fascination with the project by local residents was plain to see and we continue to receive positive comments through the Derby Parks social media pages. It was a great project to be part of and has created a lasting legacy within the village."
David Winslow, Community Parks Officer - Derby Parks
"The rainbow bridge project was a welcome opportunity for students at West Park School to engage creatively in their own community.
By being involved with the work of a local artist and directly contributing by painting with other volunteers, students experienced a wide range of skills, providing them the opportunity to see community artwork in action, understanding how a project takes shape from inception to final product and using equipment in an outdoor setting.
We were honoured to be a part of this project and grateful for the positive experience students had. What a lovely lasting activity which they are able to enjoy into their futures."
Matt Smith, Head of Art - West Park School
"Fabulous photos! Well done everyone. A couple of my clients were talking last night about how amazing the bridge looked.  (They jog down the canal path) It's encouraged them to run more often." - Amy
"The artwork on the canal path bridge is amazing! We should all be so grateful to those who have given their time." - Gary
"Finally got to see the Rainbow bridge artwork in person this morning. It really is a fantastic, colourful and joyful piece of work! Thanks again to everyone else involved in making this happen!" - Spondon Online
"The canal path has always been my local walk and I've always found it
helpful especially when I'm really low. Just wanted to thank you  for your fantastic art on the rainbow bridge, it makes my local walk even more enjoyable and it never fails to bring a smile to me face." - Steven
"The best bridge in Derby award goes to the Rainbow Bridge in Spondon. Congratulations to all the volunteers and school kids that have done an absolute magnificent job of giving this bridge a bit of a face life over the past few weeks, looks flaming marvelous. By the way, 'The best bridge in Derby Award' doesn't actually
exist but if it did!" - Al
"It's looking amazing honestly thank you so much for making Spondon even brighter."
- Dani